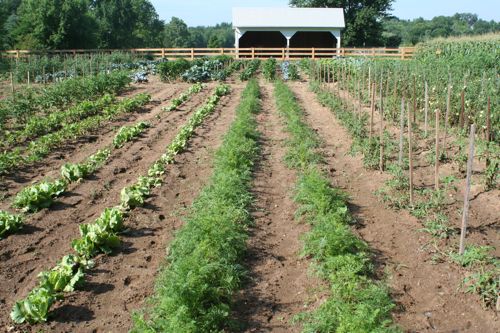 Black Pond Farm has served as an educator in the realms of agriculture, business, and healthy living.

Black Pond Farm was purchased by the Dietrich Family in 1997 from the Weaver Family. From a small hobby and source of healthy food for our family and friends, it has grown to a much larger production with the guidance of our wise mentor and friend, Jack Wilson. Large gardens filled with rich, black, muck soil, fruit orchards, horse pastures, chicken coops and sparkling black pond are some of the physical elements that make our farm so special, but really its so much more than that.
For our family and all those involved, Black Pond Farm has served as an educator in the realms of agriculture, business and healthy living. For our 5 children the farm has provided summer employment, and a model for small business development. Relationships with the community and other local farms have created invaluable links to many special people. As we broaden the scale and influence of our farm further, we hope to inspire and inform others by sharing all that the farm has given to us.
We use absolutely no chemicals on the food that we grow, and our chickens enjoy the free range of our entire farm. We are not certified organic; We believe that the regulations and rules of this certification still allow for the growth of unhealthy food and animals. We can guarentee that what we give you is 100% natural. Everything we produce is nurtured with the dazzling Ohio sunshine, drenched with the gift of rain, and cultivated by our gentle hands. It is what we believe is living right, and what we conciously choose to feed our family, friends, and those we care about.